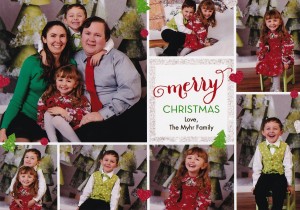 Dear Family & Friends,
Merry Christmas! We hope this letter finds you and your family doing well. 2014 has been a full and busy year for our family.
January and February found us trying to survive the record breaking cold temperatures while preparing to put the house back on the market. On the bright side it made finishing some projects around the house easier as we didn't want to be outside.
March brought an offer on our house after just one fairly quick showing. That showing? A day early while Heather was home with a very sick Cecilia due to a scheduling mix-up. They didn't leave the house and hadn't done last minute cleaning. The accepted counter offer started the process of looking for a place to rent and getting ready to move. Thankfully Heather's grandparents and mother were able to come help finish packing. They were able to stay and help with most of the unpacking and setup in our new place as well. Gideon's 5th birthday also fit in to the craziness of the month.
April brought our move and a month of faith stretching. Literally hours prior to closure we found out we were not going to close on time, and likely not even that day. Everything had gone smoothly to that point. After we were moved leaving an empty house in Elk River it seemed like the deal would fall apart. Our buyers were not able to close on the house they owned and thus couldn't secure financing to purchase ours. We hadn't even realized they had a place they were selling. Thus began several weeks of praying for things to come together after deciding our best option was to try and stick it out with them rather than putting an empty house on the market. God came through and we finally closed right before the end of the month ending up with a couple extra weeks interest rather than a full month's mortgage.
May was spent getting settled in to the new location and schedule. Heather enjoyed a much shorter commute to work and daycare as the new place is literally 5 minutes from the daycare and about 10 minutes from her work.
June saw Gideon graduating from preschool and starting the school age program at Love to Grow On's other location. It kept him extremely busy and made him tired as well. He played t-ball and we spent lots of time-park hopping. This was to compensate for the rental townhouse's lack of outside space. We must have visited almost every park with a playground in a 20 minute drive.
As June shifted to July we drove to Colorado for a two week vacation. The first week allowed Adam and Heather a couple of nights away while the kids spent time with Grandma and Grandpa. Next we all went camping at the Sand Dunes for a couple of nights before heading to Longmont for a Shutts family reunion. (Heather's mom's side of the family.) We had a chance to see all of Heather's extended family from that side, even her aunt Nancy when we skyped with her briefly. We briefly got to meet Felix, Erin's (Heather's sister) little boy, who was born mid-June. Activities with extended family included a BBQ, the Zoo, a ride on the Carousel, and shooting off air rockets in the park. While in Longmont we also had lunch with as many of the Reed side of the family (Heather's dad's side) as we could. Then we finished off the vacation with a few down days in Monument at Heather's parents place.
After we returned from Colorado we had a couple of weeks before we headed to Osh-Kosh Wisconsin for AirVenture. The biggest air show in the U.S. The kids loved seeing all the airplanes and we got a chance to hang out for a while with Heather's cousin Nathan who was there with work.
August highlights included the State Fair with good friends and then again with Heather's parents.
The first part of September brought Cecilia's birthday, Heather & Adam's 10th wedding anniversary and Gideon's first day of Kindergarten.
The rest of September and October were spent trying to find a new rhythm with school. This was difficult while trying to make going to the park a priority. After all day at school Gideon definitely needed the outside run around time. Halloween at our house included a Teenage Mutant Ninja Turtle and Princess Elsa. And 5 people at the door. 2 of which were coming home. The kids were bummed and wanted to know why people weren't coming to our house.
November brought the start of cold and attempts to find indoor places to run off the afternoon energy. We settled on a local community center which includes a water park. A low-key Thanksgiving out with Adam's brother (plus family) and parents was a nice way to not worry about cooking and cleaning in a small space, and a nice gift from Adam's parents.
December looks to be relatively full as we look forward to celebrating Christmas in a few different ways.
Overall it has been a year full of change, fun, and growth. 2015 looks to be full of the same.
If you want to keep up with what we are up to a little more often feel free to check out our website, myhrfamily.net, where there has been at least one post a week for the past year giving glimpses into our family life.
We would love to hear from you as well and hope you have a wonderful Christmas season while you celebrate with family and friends. May you remember the reason for the season is Jesus's birthday!
Love,
Adam, Heather, Gideon & Cecilia Myhr